Sergio Heredia
Pedacería
Pedacería es la primera de cuatro exhibiciones que se componen a partir de una colección personal de objetos que tuvieron una etapa útil pero estaban destinados al olvido y fueron rescatados por Sergio Heredia; creándoles, así, un nuevo discurso dentro de la Galería La Esperanza como un paisaje muy sencillo:: una piedra basáltica de Pierre Huyghe capaz de flotar dentro de una escultura acuática donde habitaban peces ciegos y un espejo de seguridad, el cual era parte de Mantric Mutations de Gunilla Klingberg.

Además, la exposición se complementa con otras tres piezas escondidas a lo largo de la calle General Antonio León. Dos de estas piezas son dos sueños diferentes y fueron secretamente expuestas sin permiso en el Museo Tamayo. Son parte de una exposición que se llama "Loose Laces". Loose Laces es el primer capitulo de un libro escrito a partir de bitácoras oníricas en el cual llevo trabajando alrededor de 10 años. La tercera una casa de campaña y unos tenis con musgo los cuales en un futuro se convertirán en una vestimenta para un performance (aún no se define la fecha ni el lugar).

*Estas últimas tres piezas únicamente estarán expuestas el día de la inauguración.

Pedacería is the first of four exhibitions composed from a personal collection of objects that once had a useful stage, but were destined for oblivion and rescued by Sergio Heredia. This repurpose creates a new discourse within Galería La Esperanza, in the form of a very simple landscape: a basaltic stone from a piece by Pierre Huyghe that floated in an aquatic sculpture where blind fishes lived and a security mirror that was part of"Mantric Mutation" by Gunilla Klingberg.
The exhibition is also complemented by three other pieces hidden along General Antonio León. Two of these pieces are different ¨dreams,¨ which were secretly exposed without permission at the Tamayo Museum. These dreams also form part of an exhibition called "Loose Laces." Loose Laces is the first chapter of a book written from dream logs in which I have been working for about ten years. The third piece is a tent and a pair of tennis shoes with moss, which in the future will become a dress for a performance (the date and place are not yet defined).
* These last three pieces will only be exposed on the day of the exhibition opening.
– Shesho
Photos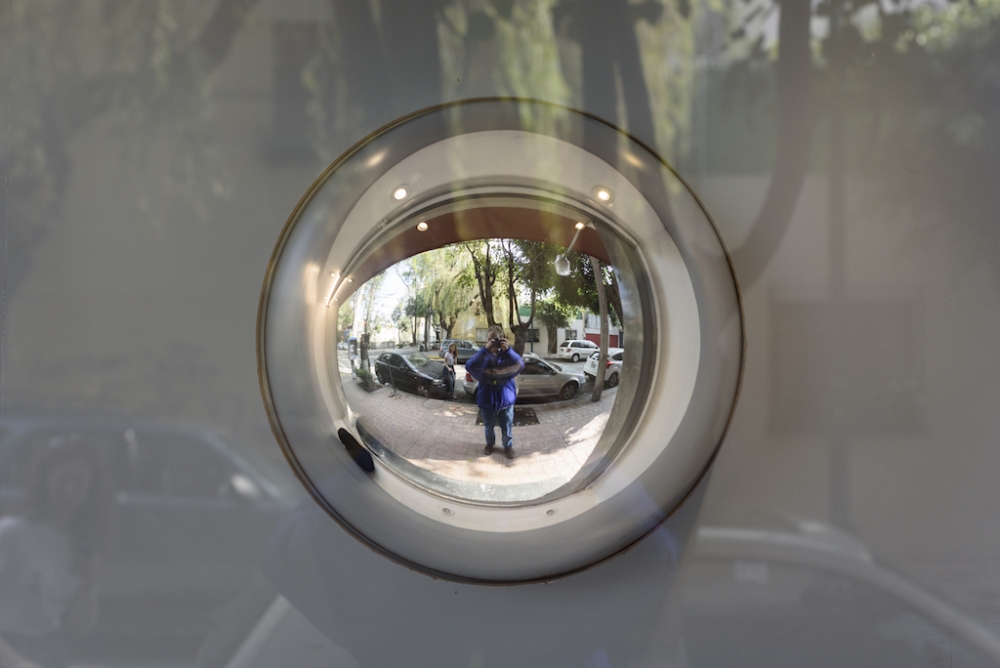 Works
Pedacería
Artist: Sergio Heredia
Year: 2016
Technique: Piedra basáltica y espejo de seguridad
Dimensions: 150 x 290 x 36 cm
Photo credit: PJ Rountree
Diamante de hielo sobre base de acrílico negro
Artist: Sergio Heredia
Year: 2016
Technique: Diamante de hielo sobre base de acrílico negro
Dimensions: 40 x 50 x 50 cm
Photo credit: PJ Rountree
Casa de campaña y tenis con musgo
Artist: Sergio Heredia
Year: 2016
Technique: Casa de campaña y tenis con musgo
Dimensions: 150 x 250 x 250 cm
Photo credit: PJ Rountree